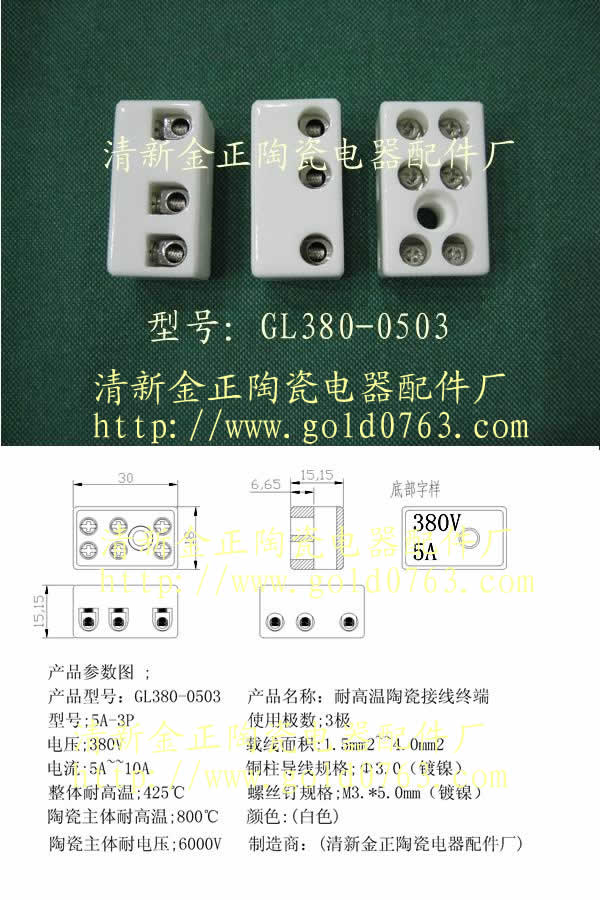 3P5A ceramic wiring terminal
1, steatite (frequencyporcelain) injection process, ceramic surface (glazed and unglazed frosted) very precise size, production and assembly in accordance with customer requirements in size, a nickel brass or brass terminals, gong wire nail surface galvanized or nickel plated various types of choice, can withstand 425 C high temperature. This product is widely used in the surrounding temperature is very high, strict requirements of a variety of terminal occasions.
2, the product has the advantages of high insulation strength, high temperature resistance, high mechanical strength.
Product features: This product has anti-aging, high temperature resistance, good insulation properties, high strength, good stability, suitable for different environments, can meet the requirements of the harsh environment of the mechanical and electrical equipment wiring, etc..
3, voltage, current rating;
110V~~600V
3A~~~~75A
The overall components comply with EU environmental protection (ROHS) requirements